The 2015 MLB season is upon us and the Brand New 2015 Topps Series 1 is out!! So get pumped up for another great year in baseball cards!!
Also starting this week is Topps Spring Fever, check out the details below!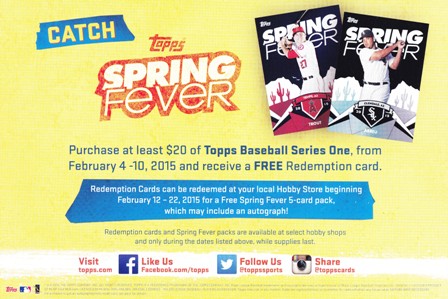 Click on any of the product names below to see the box breakdown and details of what big hits each product holds.
As always we will match the website pricing in the store (All prices are subject to change)
2/4/15 - 2015 Topps Series 1 Baseball Hobby Box > $55.00
2/4/15 - 2015 Topps Series 1 Baseball Jumbo HTA Box > $95.00
2/4/15 - 2014 Topps Fire Football Hobby Box  > $79.00
All products are also available to purchase live, Mon-Fri, from 12-4 EST on BlowoutTV. As always, domestic shipping is free on all orders over $150!!
Come by this week and start off your 2015 Baseball season with Blowout Cards.
- The Fantastic Store